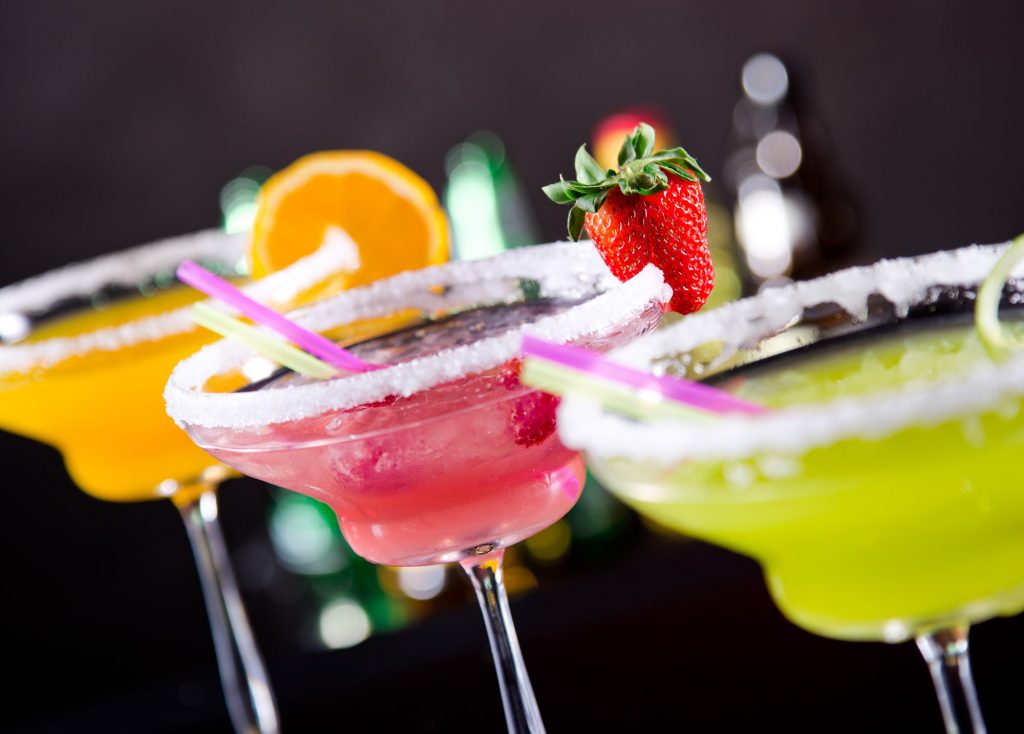 One of the reasons we learn mixology is to delight friends and family with delicious cocktails and mixed drinks when they visit our home. Naturally, this means staying stocked up on essential cocktail ingredients. It doesn't mean you have to buy every alcohol, fruit, and soft drink type under the sun!
Whether you're throwing a pre-planned party, or just want to make sure you're always ready for visitors that swing by unannounced, you can be prepared to entertain at any time with just ten must-have cocktail ingredients.
Common ingredients in cocktails
A common formula for making cocktails is known as the 2:1:1 ratio.
It means that many classic cocktails can be created with two parts alcohol + a sweet ingredient + a sour ingredient.
Of course, when you start to create more advanced cocktails you notice these contain a larger number of ingredients and the ratio might vary.
For those classic cocktails though, the ones that are requested time and time again, you can expect to need three essential ingredients, with the odd garnish or filler thrown in as a finishing touch.
Take the top ten best-selling cocktails for 2019, as an example:
Old Fashioned
Negroni
Whisky Sour
Daiquiri
Manhattan
Dry Martini
Espresso Martini
Margarita
Aperol Spritz
Moscow Mule
Pretty much all of these popular cocktails are made up of three core ingredients.
The Negroni is gin, plus vermouth rosso, plus Campari, with a garnish of orange peel.
A Daiquiri is made up of white rum, syrup, and lime juice.
The Whiskey Sour is whiskey, lemon juice and sugar.
So which ingredients should you stock your home bar or kitchen with, so that you can offer a great choice of mouthwatering cocktails for your guests?
10 must-have ingredients for popular cocktails
1. White Rum
A versatile spirit, white rum features as the base ingredient in many well-loved cocktails, like the Mojito and Daiquiri. A classic Daiquiri is a winner in itself but if you can offer your guests a few flavour options they're bound to be impressed.
2. Vodka
Vodka remains to be the most popular spirit in the US and for good reason. An alcohol base of vodka can create the simplest of cocktails, from the classic Cosmopolitan or the Moscow Mule to a more complex Bloody Mary, or Espresso Martini.
3. Whiskey
With two light liquors stocked, you'll want to add two dark liquors too, for a real selection of possible cocktails. Whiskey is an obvious choice because it features in many popular cocktails, including two of the best-selling cocktails in the list above; the Manhattan and the Whiskey Sour.
4. Dark Rum
Cocktails made with dark rum are arguably a little less popular but there are plenty of delicious cocktail recipes that make us wonder why.
The first is the proven favourite of cocktail buyers right now; the Old Fashioned. You can also make a dark rum Daiquiri for those who prefer a little more richness, and a Mai Tai for a smooth and relaxing tipple.
5. Syrup
Syrup is a sweet ingredient used in a range of cocktails, like the Whiskey Sour, Vodka Sour, Mojito, and plenty of others. It's a great item to have to hand when you're creating cocktails and you can easily make this ingredient yourself with just sugar and water.
6. Limes for juice and garnish
As we learned before, cocktails are usually balanced with one sweet ingredient and one sour ingredient.
Lime juice is a classic sour ingredient that can be squeezed into the drink from fresh limes, or bought ready to pour. It works because it weakens the alcohol-taste a little, making the cocktail a little easier to drink, yet lime also brings out the flavour in a cocktail, like the Margarita, for example.
Of course, fresh limes are also a common garnish for cocktails, so even if you don't need the juice, they are essential.
7. Oranges for juice and garnish
Fruit juice is one of the most versatile cocktail ingredients out there. Some of the lesser used but essentials for popular cocktails are tomato juice (for a cracking Bloody Mary) and cranberry juice (to be mixed in a Cosmopolitan or Sex on the Beach).
With this in mind, you might go all out and stock three or four different mixers.
Generally though, with lime juice and orange juice around, you'll be able to mix a great variety of cocktails for yourself and your guests. Just a couple of cocktails that include orange juice are the Mimosa, Tequila Sunrise (you'll want to grab a bottle of tequila for this one!) and Sangria.
8. Soda water
A cocktail ingredient that can't be overlooked, simple soda water is a brilliant filler for lots of cocktails and can really give your drink that extra-touch of refreshment.
The beauty of soda water is it can easily be added to otherwise simple mixed drinks, like vodka and orange juice, to give it mouth-pleasing fizz.
9. Ice
This is probably an obvious one but ice is undoubtedly a must-have cocktail ingredient that you'll never want to run out of! Whether you need crushed ice for Daiquiris or cubes of ice for many cocktails and mixed drinks, keep your freezer stocked up and you'll always be ready to mix.
10. Mint
If you've already stocked up on limes and oranges, mint is an extra garnish that will almost always be useful. Particularly in the warmer months, a mint-topped cocktail is truly delicious - just take the Mojito as one example! What's more, mint can be added when whipping up your simple syrup to add an extra flavour to classic mixed drinks, like the vodka soda.
A couple of extras for good luck
The ten cocktail ingredients we've already listed will get you far when it comes to offering a variety of impressive cocktails for your guests. Add these few extra ingredients to your shopping list though, and you'll be set.
11. Tequila
Because who can resist a good Margarita?
12. Gin
Gin is rising in popularity as a spirit, so stocking both vodka and gin means you'll likely have all your bases covered when it comes to offering cocktails.
13. Pineapple juice
For mixing with orange juice-based cocktails or for classics like the Pina Colada.
So there you have it; your go-to shopping list for stocking your home bar or kitchen with essential cocktail ingredients.
If you're new to the art of mixology, these must-haves are great for practising well-known and simple recipes. Of course, that's assuming you've got the essential bar tools every bar needs too!
Read next: 9 Essential Bar Tools for Making the Best Cocktails