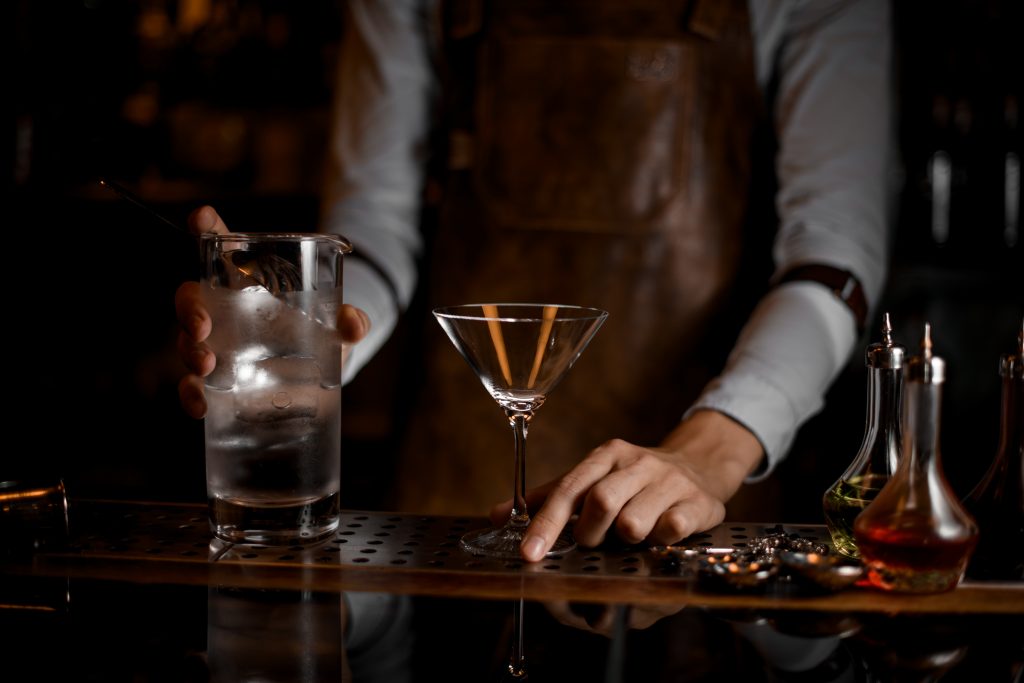 A classic gin Martini is easily the most iconic cocktail that never fails to hit the right spot. Whether you like it shaken, stirred, dirty or with that extra garnish, it's the perfect cocktail for any mixologist to master. Once you have it in the bag, exploring and customising Martini mixology becomes a fun journey that leads to being a connoisseur.
What you'll need
The ingredients needed for classic Martini mixology are simple but mastering the right balance of flavours is where the fun is. You'll need vermouth, gin (or vodka but we'll get to this later) a martini glass, ice, a shot glass, a shaker, a strainer, and a garnish.
 Let's get into some ideas and tips for perfecting and personalising your classic Martini. 
1. Glassware is crucial
Before you even begin to craft up a Martini for your guests or, let's be real – for yourself (why not?), preparing the right glass is a small detail not to be missed. 
Now, it might not be a prerequisite but placing your Martini glass in the freezer beforehand adds an extra layer of sensory decadence in that first sip of icy cold pleasure. Give it a try! 
In terms of the glassware itself, the classic silhouette and thin stem of a Martini glass is simply sophisticated and accompanies the stylish drink to a T. We suggest you stick to traditional use of a Martini glass, rather than opting for a quirky new alternative on the market. 
Everything from the long stem to avoid the heat in your hands going into the icy drink, to the conical shape of the glass to allow air to enter the gin, dates back to the early 20th century when it was designed for practicality. 
As you can see, to this day Martini mixology isn't fussed with unnecessary additions. Rather, it embraces the elegance of practical simplicity. After all, a Martini is something you drink when you really need it right…
2. Balance the flavours
When it comes to Martini mixology, not overdoing it is the simple key to balancing your flavours. Adding extra gin or more olives can ruin the whole drink, so it is important to find that perfect balance. Finding ways to get your perfect balance is what really adds personality to a Martini. 
A part of creating this personality and balance comes down to which type of gin and vermouth you use. Here is a list of the top vermouths to use and the flavours they embrace. 
For the gin, here is a list of the best gins to use in Martini mixology and an idea of the personality they will add to your drink. By choosing the right combinations, you can personalise your drink and ensure the combinations and subtle flavours are complementing each other. 
3. Mixing tips
We know you're thinking it, Bond said it first. But we say, stirred not shaken. Although some may prefer their Martini shaken with ice it can often water it down considerably. We suggest stirring it for the superior choice of an icy cold, but sharp Martini. 
On this note, another important element for any Martini mixologist is investing in high-quality cocktail tools which can make a huge difference in the quality of your Martini. 
If your tools need updating, have a look at our Mixology Crew Kit which has everything you need in it.
4. Serve it with style 
When it comes to style, a Martini always has it, but there are a few options for styling and enjoying it. 
If you prefer a dash of savoury, you can make it a Dirty Martini by adding olive brine and an olive to garnish. If you like a drier edge, you can make it a Classic Dry Martini with a lower ratio of vermouth. On a zestier note, you could serve it as a Dry Martini with a Twist by adding a strip of citrus peel as a garnish! These options all come down to personal preference, and equally, depend on which type of gin you choose to use. 
On the topic of gin, let's address the use of gin versus vodka. Gin is undoubtedly the more classic choice as it offers a softer botanical flavour, whereas vodka gives it a smoother, but sharper flavour. The debate of which is superior remains, but here are two recipes to compare, for the ultimate Martini-off. 
Now that you're equipped with some top tips for mastering classic Martini mixology, start experimenting! If you need a professional cocktail kit to master your skills with, head over to our Amazon shop. 
READ NEXT: Simple Mojito Recipe