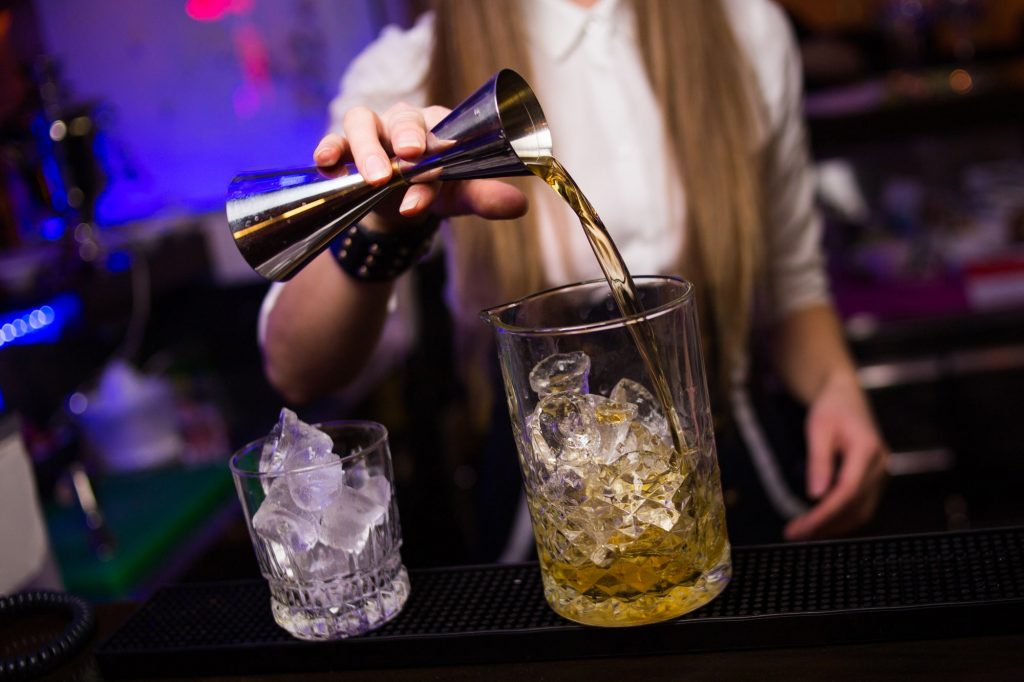 It may seem like the mixologist vs bartender debate is comparing apples with apples. How different can the two really be? Both serve drinks, right?
We'll be upfront here and state that there are people who argue the 'mixologist' title is used to give a level of superiority to a bartender - perhaps to make them sound a little upmarket in comparison with the image of a bartender who pulls pints in your local.
The truth is, neither is 'better' or more respected than the other but in reality, there are differences between mixologists and bartenders (this blog post would be pretty short if they were simply the same).
Anybody aspiring to start a career in the hospitality industry might wonder then, how are mixologists and bartenders different and which is the better option?
Comparing mixologist vs bartender jobs is only possible if we understand the nuances between the two. So let's start there…
What is a bartender?
As the name suggests, a bartender is a person who tends to a bar. 
A bartender will serve the customer any type of drink available, alcoholic or non-alcoholic, including beer on tap, bottled cider, glasses of wine, spirits, and mixed drinks such as cocktails.
They are professionals who definitely need to know their products. A skilled bartender can take orders, mix and serve drinks quickly and without wasting a drop, all the while chatting with customers or cleaning, tidying and preparing the bar area.
There's no doubt about it, bartending is a skilled job.
Usually, we'd only expect to title a person a 'bartender' if they're paid for the work, usually by a licensed establishment.
If we were serving guests from our own home bar during a backyard barbecue, for example, we probably wouldn't call ourselves a bartender.
What is a mixologist?
Generally speaking, mixologists are just people who focus their efforts and attention on learning and evolving cocktail recipes and mixed drinks.
They thrive on the process of creating a cocktail and can be fanatical about perfecting the art and science of mixology.
Skilled mixologists can conjure up original mixed drinks based on intuition and knowledge of how ingredients pair, as well as the best way to serve a particular drink.
A bartender can be a mixologist. In fact, we're willing to bet that many bartenders consider themselves a mixologist!
The difference is, you can be a mixologist without needing to be a bartender.
For example, if we dabble in cocktail-making at home and often delight our friends with our latest cocktail creation, we could call ourselves a mixologist but we probably wouldn't say we are a bartender.
On the other hand, if we work in a restaurant or bar that serves cocktails and as part of our work we trial, create, or mix cocktails with a keen interest in improving the drink, we are a professional bartender and we may call ourselves a mixologist instead or as well.
One is not necessarily better than the other! They are just ever so slightly different.
Mixologist vs bartender jobs
For employers, having a bartender who is also a keen mixologist is a bonus because this passion may translate to improved cocktails, a more original menu or being known for a signature cocktail.
If not the same person, many bars and restaurants will aim to have both bartenders and mixologists behind the bar; bartenders to tend to a variety of drink requests and take care of the customer experience, and mixologists to focus their attention on delivering the best mixed drinks in town.
Both are professionals and both complement one another.
Which is right for you - mixologist, bartender or both?
When considering job opportunities, we might see the terms mixologist and bartender used interchangeably. Some ads might title a position as 'Bartender' but in the job description make it clear they are seeking somebody who is an experienced mixologist. 
When in doubt, it helps to consider the venue. 
If the ad is for a five-star restaurant that serves expensive cocktails and three-course meals and they are advertising for a 'Mixologist', it likely means they want to hire somebody to take ownership of their cocktail offering.
If you're more enthusiastic about the process of mixing cocktails and how you might evolve the current menu, than giving great customer service, then perhaps a mixologist position like this is suitable.
On the other hand, if the idea of mixing cocktails all night is the least appealing part of working in a bar or restaurant, you may be more suited to a bartender role that isn't focused so heavily on mixology.
The tricky thing is, as we mentioned earlier, many people don't see mixologists vs bartenders as different roles.
Some feel that they are basically the same and, therefore, might advertise for them as the same thing too.
The best way to find out if a role is right for you is to visit the bar, watch how the bartenders work and whether there are separate mixologists, and chat with the manager about the role. 
In fact, why not ask them outright for their view on the mixologist vs bartender debate? It's a sure-fire way to start a conversation at your next interview.
Keen to become a mixologist? Take your mixing skills to the next level and develop a love for cocktail-making with a professional 7-piece mixology kit.