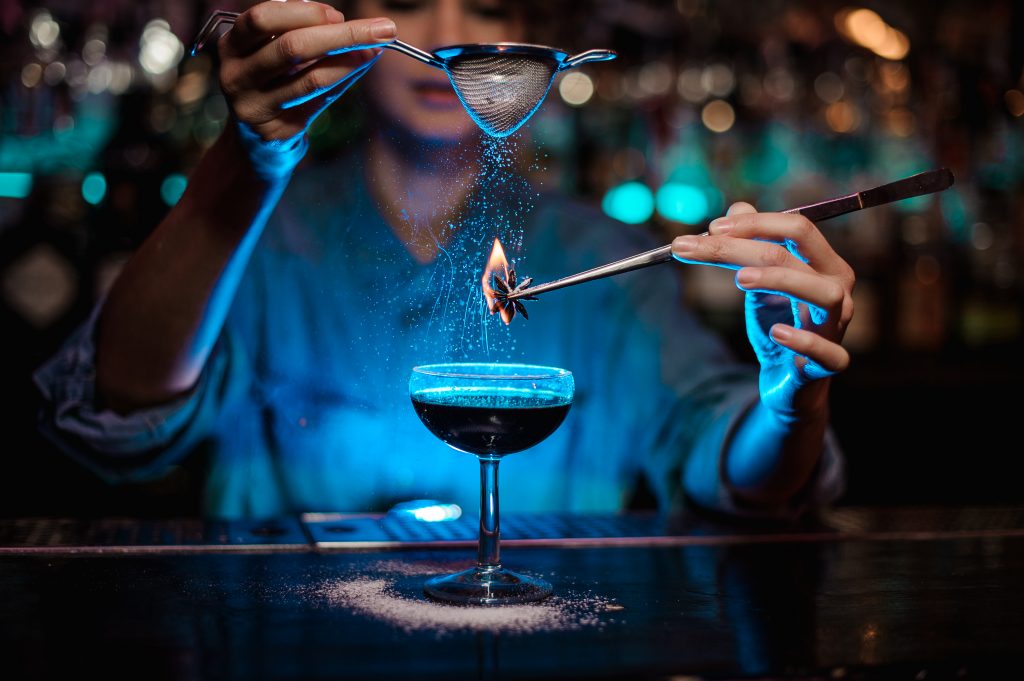 Mastering the classics is a must, but once you're ready to step it up a notch - there is a lot of room for experimenting and whipping up some fun cocktails!
Whether you are getting ready to impress guests at a cocktail party or have a Zoom cocktail evening planned for your Friday night, here are eight impressive and fun cocktails that raise the bar in the world of mixology. 
The first fun cocktail on the menu is the Pavlova Pimms, an Australian summer drink that adds a perfect touch to a balmy evening dinner in the backyard. With a simple combination of Pimms, fresh orange juice and passionfruit, you'll create a smooth yet refreshing drink that embodies a balance between fruity, sweet and smooth flavours. 
For a luscious combination of peaches, whiskey and white chocolate, this Whisky Sour is nothing less than indulgent. With the sweetness from the ripe summer stone fruit, mixed with the warmth of the whiskey and buttery vanilla tones from the white chocolate, you can expect a dreamy concoction of flavours. 
If you enjoy cocktails with a kick and savoury edge, this Serano Spiced Paloma is for you. Steering more to the exotic side of cocktails, it certainly packs in some heat and vivacity! Getting its kick from Serrano pepper, it still has a bittersweet taste from the grapefruit juice and dash of agave to balance it out.
Moving on to something sweeter, this Hazelnut Espresso Martini oozes with a Nutella-like flavour, balanced with the bitterness of the coffee and rounded off with orange zest that adds a subtle freshness. We recommend using a high-quality shaker for any Martini mixology, so here's the Amazon link to our Mixology Crew Kit which includes a stainless steel shaker.
If you've been on the lookout for a sour that has no egg whites, or you're interested in experimenting with new methods, this one's for you. Differing from a regular Pisco Sour, this cocktail has a unique sweet orange aroma and taste, with floral accents. We all know how well a Pisco Sour hits the right spot with its citrus punch and sweetness, so if you love the original, give this vegan twist a try.
With this cocktail, you can expect a fruity and floral rendition of the original lemon-based Gin Sour. This recipe is based on the classic while adding violet and blueberry to transform it into a fun and vibrant cocktail. With brilliant colour and creamy and sweet notes, it is balanced with lemon and lime and the floral violet liqueur. 
Fill your loved one's heart with a strong but delicious cocktail. This fun cocktail to swoon your date has Amaro Lucano, tequila, strawberry liquor and lemon - all working together to make a bold drink. Whether it's to celebrate that one day of the year, or a simple romantic gesture on date night, this cocktail is sure to spice things up. The flavours in this cocktail are earthy and bitter, with a sliver of the sweetness from the strawberry creating the romance. 
For the last fun cocktail, we have a fruity and vibrant punch packed with flavour. With the zesty fizz from the kombucha, tart flavour from the rhubarb and the sourness from the pomegranate - this cocktail is refreshingly balanced and a fun drink to entertain guests with on a warm day.
Now that you have some inspiration to get creative and have some fun with your mixology, start experimenting! If you need a professional cocktail kit to master your skills with, head over to our Amazon Shop.
READ NEXT: Mastering the Craft of Martini Mixology

Want to join a like minded group of mixology enthusiasts?
Join the Mixology Crew Facebook Group to share tips, tricks, recipes and techniques with other mixologists of all skill levels.