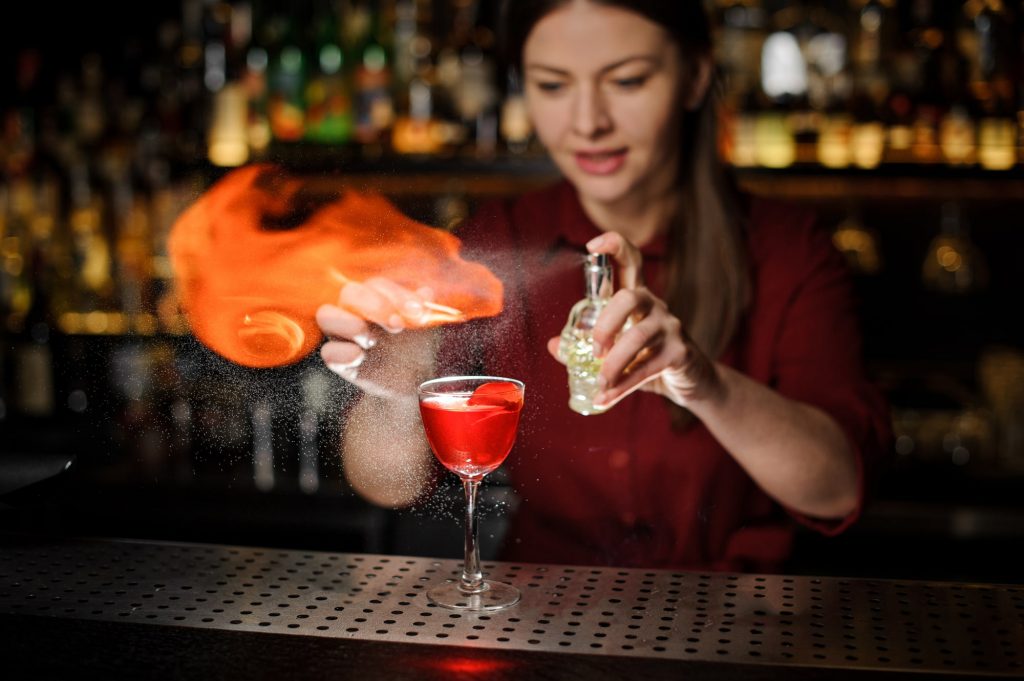 Once you've mastered the basics of mixology, what's next? For those that want to truly hone their craft and take their skills to the level of advanced cocktail making, there is plenty more to learn.
When first getting started with making cocktails, the attention tends to be on using the tools correctly. Nobody wants a mixed drink that's full of floating bits of fruit pulp, so knowing how to correctly hold a strainer while pouring is essential.
Likewise, having the skill to fully mix cocktail ingredients so that these will blend perfectly and create the tastiest drink is something that most mixologists need to practice.
Then, there's learning the mixology lingo, figuring out the basic science of mixing ingredients, and memorising a handful of basic cocktail recipes (likely while stocking up on those essential ingredients every bar must-have!).
Any mixologist that can tick all of the above off of their 'to-master' list, can consider themselves an intermediate mixologist.
And that's when the fun really begins!
With a solid understanding of cocktail-making, it's time to move on to the skills that really make guests go 'Ooh'.
What are these advanced cocktail making skills, you ask? Read on…
Advanced cocktail making tips
1. Learn how to pair ingredients
Advanced mixologists don't simply rely on recipes to follow. Instead, they get to grips with how each ingredient affects the look and taste of a mixed drink. 
Why do certain cocktails work so well? What is it about their ingredients that makes them popular? What are the rules for mixing sweet, sour, bitter and salty together?
Having the ability to really pair and mix cocktail ingredients is the sign of a pro.
Here's a great guide on building a cocktail, including balancing the elements. Modifiers, and cocktail families.
2. Experiment with a signature cocktail
Signature cocktails aren't limited to bars. Professional mixologists often have their own original cocktail, which just demonstrates their passion and skill.
To move up to advanced cocktail making, why not spend some time playing around with a signature cocktail idea? Test it out on willing friends and tweak until you have something special!
Of course, half the fun is in the making, the other half is in coming up with a name!
At Mixology Crew, we have great fun finding new original names for cocktails. So much so, that we created a quiz. Try and spot which of these cocktail names are real or fake - perhaps it'll inspire a name for your own signature drink!
3. Add some flair to how you prepare
It's easy to tell when a mixologist has been mixing drinks for a while because the show of making a cocktail becomes part of the experience.
From flipping bottles to balancing them on pointed fingers and elbows, an advanced cocktail making pro has a certain confident flair to the way they mix drinks.
Some might think it a little over the top but being able to put on a show and really entertain guests without compromising the speed, quality or taste of a cocktail is tough!
There are plenty of tutorials online for budding bartenders who want to learn some impressive tricks but we particularly like this video from SlickBartender.
4. Compete for a title
Feel like you're ready to really earn the title of advanced cocktail making pro? It is possible! 
All over the world, there are official mixology and cocktail-making competitions.
What better way to demonstrate skill and knowledge than to compete with the industry's best? 
Simply Google 'mixology competitions [year]' for hundreds of options. Perhaps start with the local or state competitions first and work your way up to international feats.
Need a professional cocktail kit to practice with? Our 7-piece mixology kit is available to order on Amazon and comes with high-quality, food-grade stainless steel tools that are designed for professionals.
READ NEXT: Mixologist vs Bartender Jobs - Which Is Right For You?