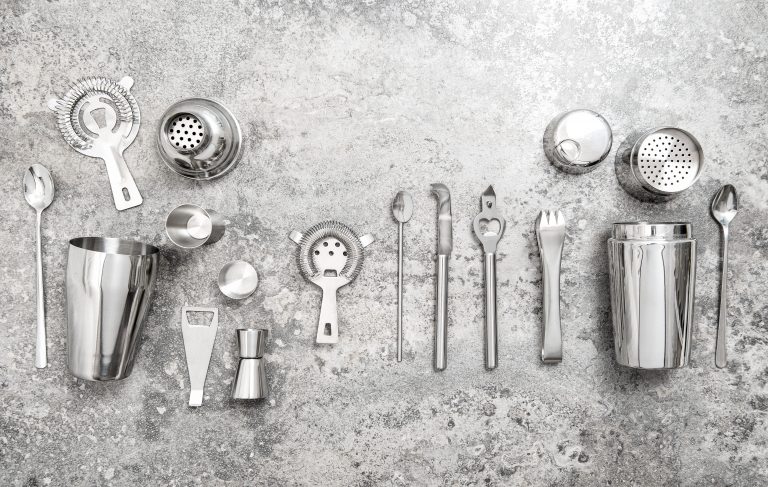 Want to setup a bar at home? This is the equipment you're going to need.
Whether you simply want to learn to mix the latest cocktails at home or you want to be able to entertain your guests in style, you're going to need the right tools.
You don't need to spend a fortune to setup your home bar either. By knowing exactly what's necessary and what isn't, you'll be ready to start mixing, pouring and entertaining in no time at all.
9 Tools to get for your home bar
Ready to kickstart your mixology career at home? Below is a list of must-have tools.
1. Shaker
This is the number one piece of equipment for mixing, diluting and chilling your cocktails. Metal shakes are preferable and are made up of a large and small tin. Some shakers will come with a built-in strainer and a cap but this isn't a must when purchasing one.Strainer
2. Strainer
If you're mixing a cocktail that doesn't call for ice, you're going to need a strainer. Along with separating your cocktail from any ice chips, it will also get rid of any ingredient remnants. A strainer is made to fit on the rim of a mixing glass.
3. Jiggers
The right quantities of spirits are key, which is where jiggers come in handy. Unless you're a seasoned mixologist, you're definitely going to need a jigger or two in order to create great tasting cocktails for your guests.
4. Bar Spoon
If you want to be able to reach the bottom of tall tumblers or jugs, you're going to need a bar spoon. This simple yet handy piece of equipment usually also has a twisted stem, which helps with stirring and layering cocktails.
5. Glasses
When it comes to mixing and serving cocktails, there are 3 main types of glasses that you'll need:
Rock Glasses: These are basically tumblers and are used to serve short cocktails such as an Old Fashioned, Manhattan or Negroni.
Collins Glasses: These tall, slim glasses are used to serve cocktails such as a Tom Collins or a Gin and Tonic.
Coupe Glasses: These round-bottomed glasses are best for serving cocktails that don't require ice. Think martinis and cosmopolitans. You could also get actual martini glasses too but they tend to spill quite easily.
6. Ice Trays
You could use the ice trays in your fridge but you're quickly going to realise that smaller ice blocks melt too quickly. There are a number of ice trays that are specifically designed for the art of mixology that are made to produce larger ice blocks that work much better for cocktails.
7. Juice Press
Once you really get into making cocktails, you're going to eventually come across a recipe that calls for lemons or limes, which is where a juice press really comes in handy. You could also use a basic handheld citrus reamer but they can be messier.
8. Muddler
Unleash the flavours of your fresh ingredients with the help of a muddler. This wooden bar tool is used to crush ingredients such as mint. There are muddlers that are coated but it's best to just stick to a plain wooden version to avoid getting extra bits in your cocktails once the coating starts to wear off.
9. Y-Peeler
Finally, to add the perfect finishing touch to your cocktails, a y-peeler is great to have on hand. Y-peelers are ideal for carving thin twists of citrus that look good and add some extra flavour to your creations.
When it comes to stocking your home bar, start with the basics, get comfortable with the tools and go wild from there.
Looking for a quality cocktail making set to kick start your home bar tools collection? Shop the Mixology Crew 7-Piece Cocktail Shaker Set for Drink Mixing on Amazon.