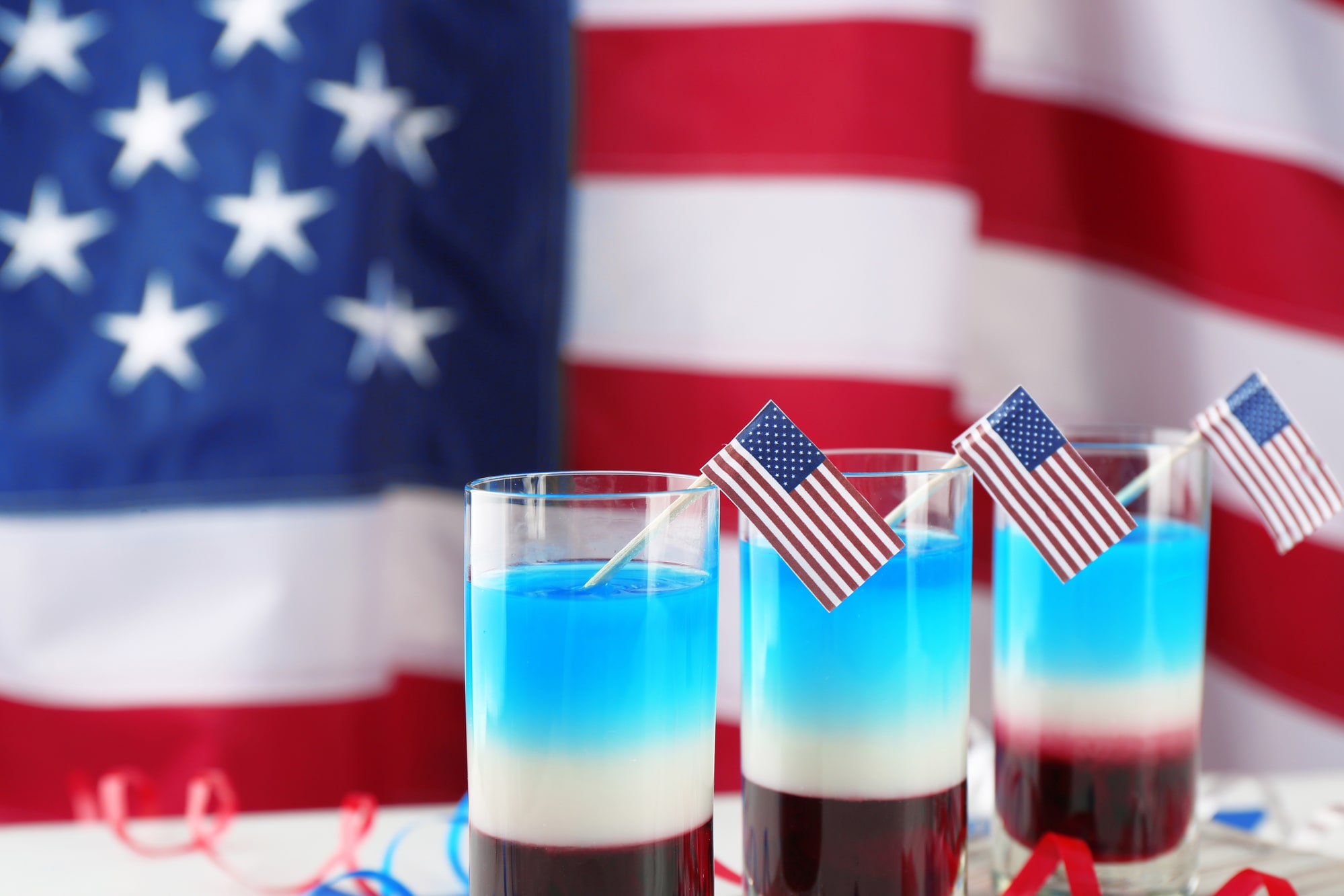 4th July celebrations have us conjuring images of backyard barbeques, friends, family, and spending the day outdoors as the sun shines overhead, a cool drink in hand. If you're planning to host a party to mark the occasion, what better way to get fully into the 4th July theme than with red, white and blue cocktails?
While mixology is a fun and creative hobby year-round, on special occasions we can really go that extra mile to serve cocktails and mixed drinks that wow our guests as they clink glasses.
It's an opportunity to play around with cocktail colours, tastes and fun cocktail accessories.
So, grab your mixology kit and get ready to mix your pick of the red, white and blue cocktails listed below!
Red, White and Blue Cocktails for Your 4th July Party
Red, White and Blue Piña Coladas
The white rum Pina Colada is a classic and popular cocktail for any backyard gathering. Give it a 4th July spin that really tickles the sweet tooth with tasty strawberry puree, Blue Curaçao and whipped cream (or coconut cream if you'd like the vegan option) by following this recipe from HomeSweetJones.
This deliciously creamy cocktail requires a tiny bit of advanced preparation to make the strawberry puree but overall it's an easy recipe that's great for beginners and experts alike.
Watermelon-Blueberry Cooler
A thirst-quenching fruit cocktail that is technically more red than red, white, and blue, is the Watermelon-Blueberry Cooler. Yet, with a little blue decorating sugar this is another great 4th July themed cocktail.

The best thing about this cocktail is its simplicity. You won't need lots of ingredients, just five; watermelon juice, blueberry vodka, lemon wedges, ice, and blue decorating sugar.
Get the full Watermelon-Blueberry Cooler recipe from Tasty Trials.
Red, White and Blue Vodka Lemonade Slushies
It doesn't matter what age you are, a slushie always goes down a treat! Particularly when it's mixed with vodka and layered red white and blue.
Needless to say, you'll need a lot of ice for this recipe from And They Cooked Happily Ever After. You'll also need cranberry juice, Blue Curaçao, vodka, and lemonade.
Of course, if you have little ones to please as well, you can make the mocktail version by holding the vodka and using blue Gatorade instead of Blue Curaçao.
Get the full recipe and instructions for mixing here.
Red, White and Blue Sangria
If you're somebody who prefers dark or wine-based mixed drinks, this one's for you. The ever popular and exotic Sangria is a crowd-pleaser and with a little fruit garnish, can easily be given the 4th July theme.
What's more, Sangria is easy to prepare in a batch that allows your guests to help themselves whenever they need a top up.
This recipe from Noble Pig recommends using Pinot Noir wine but you can switch this for the wine you prefer. Mix the wine with cranberry juice, brandy, fresh orange juice, simple syrup and don't forget all the fruit: blueberries, raspberries, blackberries and red apple. The full recipe is here.
Blue Lagoon
When it comes to 4th July themed cocktails, as long as you have a bottle of Blue Curaçao in the cupboard, you're set. One of our favourite Blue Curaçao cocktails is Blue Lagoon. As refreshing as it is bright, the Blue Lagoon cocktail is fast to mix and requires just three ingredients. With a base of vodka mixed with Blue Curaçao and topped up with lemonade, you're ready to serve.
Let's not forget the red garnish for this occasion though! Cut and position raspberries along the rim of the glass to add that 4th July theme, or garnish with fresh cherries that your guests can enjoy as a small snack too.
Here's a very simple recipe for making Blue Lagoon by the glass. To prepare in a pitcher just increase accordingly!
Citrus Spangled Spritzer
Want to challenge your mixology skills? The Citrus Spangled Spritzer is a layered red, white and blue cocktail that needs a little care to ensure your drink keeps its 3-part colour. For this cocktail, you actually don't want the different liquids to mix.
Ingredients for the Citrus Spangled Spritzer include pinnacle citrus vodka, Blue Curaçao (of course), lemon soda, and grenadine, plus lemon, blueberries and mint for garnish. Test yourself with this recipe from Wide Open Eats.
4th July themed cocktail accessories
We like to let our cocktails speak for themselves when it comes to wowing our guests. If you want to add a little more decoration though, you can give your red, white and blue cocktails that extra touch with 4th July themed cocktail accessories like:
If you haven't already, grab yourself a quality 7-piece cocktail shaker set so you have all the tools you need to mix these memorable Independence Day red, white and blue cocktails. Have fun!
READ NEXT: 7 Refreshing Fruit Cocktails to Serve at Your Summer Party