Mixology is a science. You may not have stopped to consider it but whether you're a professional bartender or mixology hobbyist, creating cocktails by adding and structuring ingredients in a specific way is a scientific approach to mixing drinks. Which is why it's fun and not overly surprising to learn that a periodic table of mixology actually exists.
You might have heard of molecular gastronomy, which means using scientific techniques to create exotic cuisine. 
According to Scientific American and Naveen Sinha and David Weitz of Harvard University, who authored an article for Physics World on the topic, the term molecular mixology is also one we should be aware of.
As Sinha and Weitz put it:
'Water molecules are polar and so prefer to be near other polar molecules to minimize their interaction energy. This encourages non-polar molecules, such as the aromatics, to leave the liquid phase and vaporize into the surrounding air, where they contribute to the aroma of the drink. The presence of ethanol mediates this polar/non-polar interaction and allows high concentrations of aromatics to remain in an aqueous solution.'
That sounds pretty scientific to us!
Why weren't we taught about this in science class?
Fun fact: In 2020 you can visit Vancouver's TELUS World of Science for its 5th annual Science of Cocktails event.
What is the periodic table of mixology?
Available as a giant poster, the periodic table of mixology is a play on the periodic table of elements. It features fifty-eight individual cocktail formulas instead of the traditional elements you'd expect to see.
Each of these cocktails has its own symbol, like those shown below:
Mg = Margarita
Br = Black Russian
Fd = Frozen Daiquiri
Bt = B52
Using this table of mixology, you can see the ingredients and recommended glass type for each of the cocktails, plus standard bar measures.
Think of it as a cheatsheet to fifty-eight cocktail recipes in one glance!
How does it help with creating cocktails?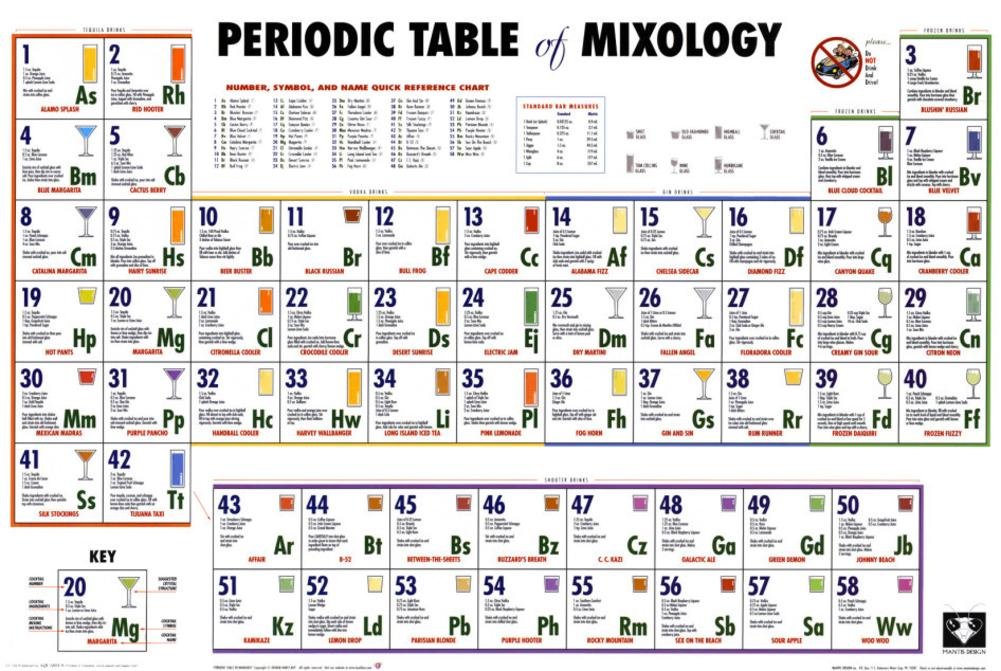 Image source: amazon.com
There are many challenges facing the novice mixologist. To become a real pro, you need to:
learn and remember a range of cocktail recipes

understand how glassware can affect taste

be able to mix drinks quickly and with guests watching

add your own spin on a cocktail by experimenting with ingredients

present your cocktails with flair and expertise
Perhaps you're only entertaining people you know, in your home or backyard on a summer's afternoon.
Maybe you're a bartender or entertainer who wants to step your game up a notch.
Either way, the periodic table of mixology is a pretty cool way to get fast access to multiple cocktail recipes without flicking through recipe books or looking up the ingredients online.
It can be the simple prompt you need when you forget an ingredient, or you're not sure which glass to use.
The best part is, with the poster displayed right next to you, your guests won't be able to tell if you falter while mixing their drink.
Not to mention, it's a great talking point for guests as they hang around your home bar - it might even inspire a few of them to try mixology for themselves!
Where can I buy the periodic table of mixology?
The periodic table of mixology is available to buy on Amazon (Mixology Crew has no affiliation with the creators of the poster and doesn't benefit financially from linking to this product - we just like to share interesting Mixology products with you!). While you're on Amazon, make sure you're ready to shake, swirl and mix the most delicious cocktails with a professional, stainless steel mixology kit for all levels.