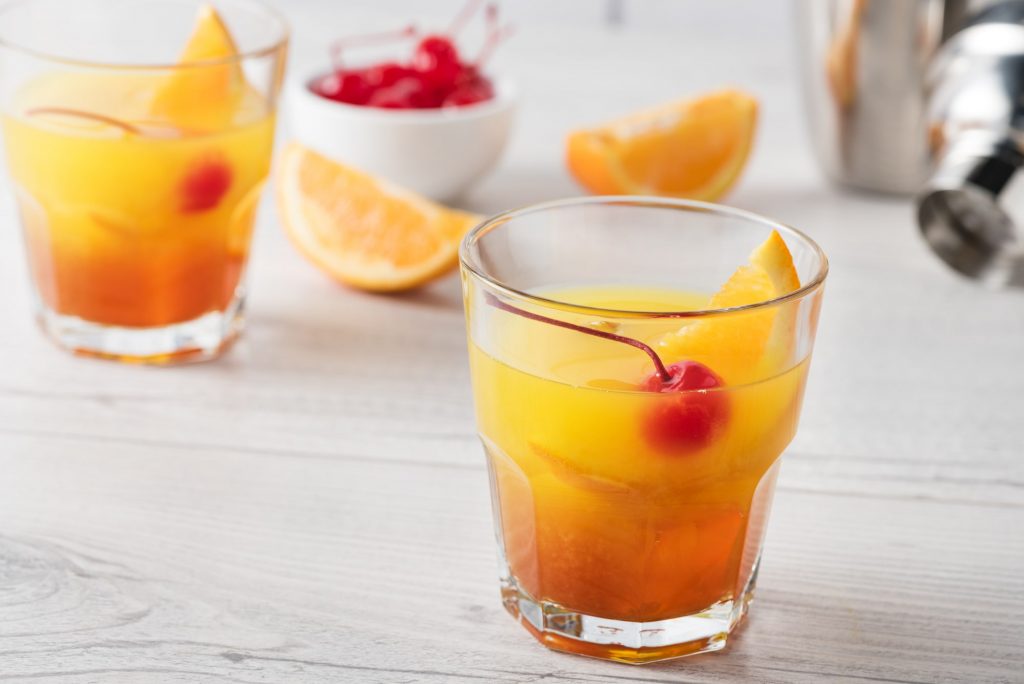 Want to know the best part of mixology? The fact that anyone can give it a go. You don't need to be a professional bartender or even a drinks connoisseur. With your own mixology kit, you can learn and practice making fun mixed drinks in your own kitchen - in between Netflix binge marathons and your daily exercise routine!
For those days when you can't head out to your local bar, or if you simply prefer to stay at home, being a mixology hobbyist will help you to prepare and enjoy delicious cocktails for yourself and your family.
Why not create a makeshift bar in your living room and serve up your tasty creations with style?
Even better, mix cocktails that are a change from the norm.
We all love a Cosmo or a Mojito, don't get me wrong. 
But there are plenty of drinks recipes that will have people 'oohing' and 'aahing' at their color, creativity, or originality.
Picking up a new skill doesn't always mean beginning with the basics. The simplest cocktails might be a good first point, granted. Here at Mixology Crew though, we like to challenge ourselves and we invite you to do the same!
Get started with one of the below fun mixed drinks and let us know how you get on…
Fun mixed drinks to try at home
Color-changing cocktails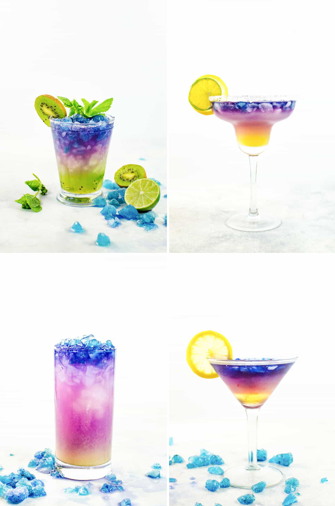 Image from The Flavor Bender
Yep, color-changing cocktails are a thing! Add a dash of magic to your mixology by creating cocktails that change color as you pour the alcohol. 
This simple recipe from The Flavor Bender is a favourite. You have two options for the color-changing element; creating color-changing alcohol using butterfly pea flowers (these are also a real thing), or buying some color-changing magic ice.
Happy orange and yellow cocktails
Nothing can lift a mood quite like a brightly colored cocktail, especially if it has tantalizing shades of orange and yellow. 
Take this Peach Crush recipe from Cosmopolitan.com, for example. The way the color filters from light yellow down to deep orange is pretty impressive because making the cocktail is actually really straightforward.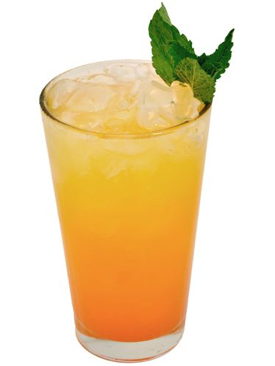 Image from Cosmopolitan
All you need is;
2 oz. Van Gogh Cool Peach Vodka

1 oz. triple sec Splash of orange juice 

Splash of soda water 

Mint leaves to garnish
Add all the ingredients to a glass and stir, don't shake. Add your mint leaves and voilah!
Unusual cocktails
A cocktail made from whisky, absinthe, chocolate and cinnamon might not seem unusual but when you serve it in an egg cup it has the effect of sticking in your memory for years to come! That's exactly how Antoine Amédée Peychaud served his famous brandy drinks in the early 1800s.
Known to the French as a Coquetier (which is rumoured to be the origin of the very word 'cocktail'), this drink is more commonly known as a Sazerac and was actually declared as New Orleans' official cocktail as of 2008.
You can find a recipe for the Sazerac on the What's Cooking America website.
Layered cocktails
When you're ready to really challenge your mixology skills, try making a layered cocktail like the Rainbow Paradise, or Strawberry-Mango Margaritas.
Layered cocktails are fun not because of how they look when you first serve them but because they should keep their layers while you sip. They also usually have a different taste in each layer, so you're getting two or three drinks in one!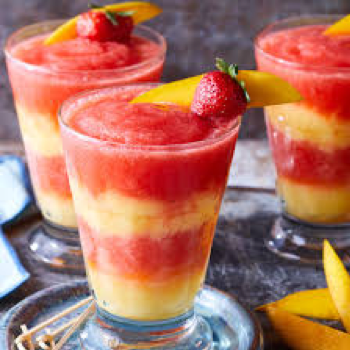 Image from The Spruce Eats
To get started, you need to learn the art of layering alcohol, known as 'floating' in the bartending world. The Spruce Eats have a step-by-step tutorial.
Unique tasting cocktails
Sometimes ingredients that simply shouldn't work together, do. When this happens we get unique flavours not often found in typical bar drinks. 
How about a cocktail made from turkey stock? Caviar and chocolate in a cocktail? Or chicken broth and pineapple syrup? 
They all sound gross, we agree. The guys at Supercall are adamant these flavours work in a cocktail, and there's only one way to find out, right?On that note, it's about time we rounded up this blog post and made our own fun mixed drinks from the comfort of our own home. Buy your own 7-piece stainless steel mixology kit today on Amazon and let's get started!
READ NEXT: 9 Essential Home Bar Tools for Making the Best Cocktails